We have reserved four unique locations for accommodation during the festival.
S/s Bore
Address: Linnankatu 72, 20100 Turku
S/S Bore, or 'Zero Bore' as Turku residents know it, was completed in 1960 in Oskarshamn, Sweden. The location of Bore, now a museum ship, and the hostel operating onboard the ship is ideal – on the Aura River, in front of Forum Marinum. The guests can even walk from the harbor to the hostel.
The ship hostel features 130 cabins for 1–4 people. Reception is open 24/7, and laundry opportunities, storage service, and wireless internet are all part of the hostel's services.
Original Sokos Hotel Kupittaa
Address: Joukahaisenkatu 6, 20520 Turku
Visit Sokos Hotel Kupittaa website
Original Sokos Hotel Kupittaa is a modern hotel that opened in Kupittaa, Turku, in the summer of 2020. The hotel is located on top of Kupittaa Railway Station, and the hotel can be accessed directly from the station. The hotel has 196 rooms.   
The hotel has a restaurant, Bistro Elli, and on the roof of the hotel's top floor, there is a bar called Kuppis Rooftop Bar. The roof has a view of Yliopistonmäki, Turku Cathedral, and other sights.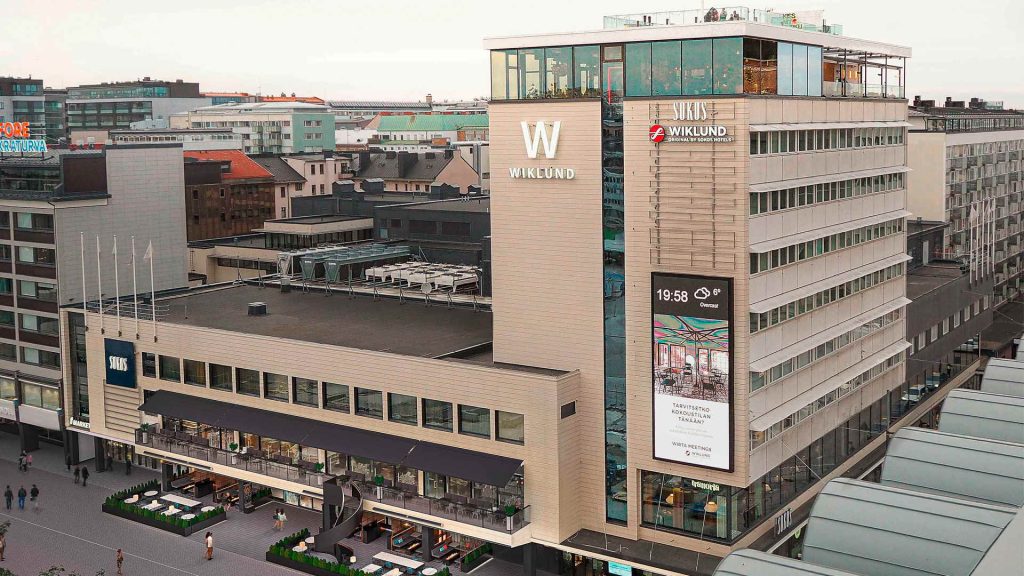 Original Sokos Hotel Wiklund
Address: Eerikinkatu 11, 20100 Turku
Visit Sokos Hotel Wiklund website
Original Sokos Hotel Wiklund is located in the renovated Sokos Wiklund department store at the edge of Market Square, at the heart of the city. The hotel has 112 hotel rooms. The hotel's roof houses the first rooftop bar in Turku, Walo Rooftop Bar, which has an urban view over Turku's rooftops.
Hotel Scandic Julia
Address: Eerikinkatu 4, 20100 Turku
Scandic Julia is a modern hotel in the center of Turku, near shopping streets and the River Aurajoki. Vähätori, the new culinary center of Turku with its restaurants and interior design stores, is just a short walk away. When staying in Julia, you will have full access to the hotel gym and sauna. The hotel has air-conditioned and comfortable hotel rooms and a bistro-style restaurant. Guests at Julia always have access to free WiFi throughout the hotel.